March 31st 2012
The Animals – All Time Greatest Hits (2000)
** Two Stars
Ok I got conned here, thinking this would be the original tracks, but sadly all the music has been recorded with vocal overdubs or something. Anyways the songs are good, but the karaoke backing music is a bit cheesy. I would go back and listen to the proper original tracks but I have used my allotted time for today, so I will revisit a Animals studio album later on this year.
I will link the Animals when I review one of their original albums.
—
March 30th 2012
Warm Ghost – Narrows (2011)
***** Five Stars
This album blew me away, I discovered it just striking it lucky on Spotify! Texture-heavy synth experimentation a plenty on this record, which has been carefully weaved together to make this amazing piece. Think early OMD meets the atmosphere & vibe of Godspeed You! Black Emperor.
Ply7 is my favourite track, with beautiful synths that build over a arpeggio piano, its the most amazing soundscape, so simple too!
Link: Official site
—
March 29th 2012
Propaganda – A Secret Wish (1985)
**** Four Stars
Yes, another album I have always been meaning to check out! I do love the best of collection I have, if some of the singles sound better live imo! Anyhow synths abound, the only thing that put me off buying Propaganda studio albums, is that some of the tracks do sound dated. That is the case for some of the tracks on this album, but there is a allot more depth on the studio tracks than I would have imagined to be honest! The second half of the album especially is really strong, these album tracks have stood up better than some of their singles!
Link: fansite
—
March 28th 2012
Message to Bears – Folding Leaves (2012)
*** Three Stars
Ambient folk? The music is haunting at times on this record, at first its really cool. Sadly it all starts to sound the same as the album goes on. I applaud Jerome Alexander the sole member of Message to Bears for trying something slightly different. Weaving acoustic instruments with electronic soundscapes and at times it works. A bit more variation would maybe make this album sound a bit more interesting, otherwise its just not very memorable.
Link: Official site
—
March 27th 2012
Midlake – The Trials of Van Occupanther (2006)
*** Three Stars
Ok this band's name has to one of the most boring names in rock eh? So not a great start, the album is a slow burner. It obviously takes its influences from North American standards such as Crosby, Stills & Nash, Neil Young and maybe even Brit band Fleetwood Mac? Otherwise the album was ok, a couple nice tracks, Branches was one that stuck as being a stand out. Allot of rock ballads really, not my cup of tea but not the worst record I've ever heard. Personally I'd give the Flaming Lips a listen first if you haven't check them out before!
Link: Official site
—
March 26th 2012
Jonquil – Point of Go (2012)
**** Four Stars
Joinquil are based out of Oxford, England. They sound allot like Captain with the jerky guitars, hazy harmonies and skittish electronic beats. Its a really easy album to listen to, I thoroughly enjoyed it. Radio friendly tunes with a good swagger to them. If you enjoy fine pop music then this is for you!
Link: Facebook
—
March 25th 2012
Capercaillie – Glenfinnan (Songs of the '45) (1998)
**** Four Stars
Blrub from the Capercaillie website:
These songs were recorded in the summer of 1995 for a specially commissioned TV programme made by BBC Scotland. The programme was made for the 250th Anniversary of the last Jacobite rebellion, and was filmed at Glenfinnan where the standard was raised on the 11th August, 1745.
These songs retrace the steps of those who came down from the mountains 250 years ago to follow Prince Charles Edward Stewart. Despite the attempted annihilation of a culture and a people, Gaelic endures.
**** Four stars
Capercaillie generally take traditional Gaelic songs and music, they add drum & bass to give the music more modern twist. In the mid 90s they actually achieved some chart success in the UK. This album is definitely more traditional than there 90s pop take on Celtic music. Its a beautiful album, all lyrics are sung in Scotch Gaelic, which adds to the authenticity of it for me.
Link: Official site
—
March 24th 2012
The Album Leaf – A Chorus of Storytellers (2010)
***** Five Stars
The Album Leaf is multi-instrumentalist Jimmy LaValle. Think Explosions in the Sky meets Sigur Ros! This is a stunning album, its mostly instrumental, with a few pieces with vocals. Layers upon layers of synths, guitars, with more tradional instruments such as a fiddle. Its an ambient listen, so be ready to chill out to this. Its a beautiful album, worth checking out of your a fan of the bands I mentioned above.
Link: Official site
—
March 23rd 2012
Bombay Bicycle Club – A Different Kind of Fix (2012)
***** Five Stars
BBC are a indie group from London, not sure why I haven't checked them out before, maybe one of the pitfalls of living this side of the ocean? I dunno but I really should have before now. This album is brilliant, its so warm very uplifting. Tons of different styles. Think Doves, Supergrass etc
Lights out, Words Gone is probably my favourite track, but the album flows beautifully its not easy picking out one track. If you enjoy British indie then this album is well worth checking out!
Link: Official website
—
March 22nd 2012
VCMG – Ssss (2012)
***** Five Stars
VCMG = Vince Clarke & Martin Gore. These two have not sounded so good in years! I thoroughly enjoyed seeing Erasure live last year, though their recent records have not been great in truth. Depeche Mode likewise have been patchy in recent years. So this album is so refreshing, it sounds like and album they both enjoyed putting together. You can't imagine a DM album with any of this stuff on it!
Granted its not the most original album you'll ever hear, tons of chunky synths with catchy beats. Its a very melodic trance album, the songs go somewhere unlike allot of the stuff from this genre. I sure hope this signals more work from the two together whether it be with VCMG or a future DM project.
Link: Mute page
—
March 21st 2012
Hunters & Collectors – Hunters & Collectors (1982)
**** Four Stars
Not what I was expecting at all! Which is good, I was kind of expecting an early INXS like sound. but more bloated. I could not have been more wrong! These guys have got funk, experimental rock in the style of krautrock down to a tee! I read Conny Plank was a big influence, that's quite obvious. Great lomg drawn out jams with hypnotic grooves that really still sound great today 32 years on.
A great album, well worth grabbing if you want to check out something a bit different than the usual Oz pub rock band music!
Link: Official fan supported site
—
March 20th 2012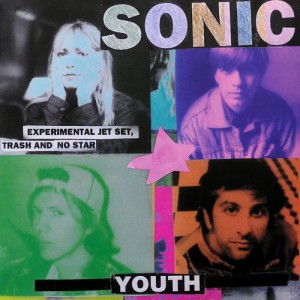 Sonic Youth – Experimental Jet Set, Trash And No Star (1994)
**** Four Stars
A great mix of alternative rock, as the title suggests some experimental pieces on this album among some more familiar Sonic Youth tracks. They sound more like Smashing Pumpkins on this album, than the others I've heard. Or does the SP sound like SY?!
Self-Obsessed And Sexxee is my favourite probably, an album I should have listened to long ago!
Link: Official website
—
March 19th 2012
Borland – Supernova Lovers (2012)
*** Three Stars
It starts off sounding like the soundtrack to music from a horror TV show, maybe even Are You Afraid of The Dark? Then it goes into some kind of trance synth sound (Lazer Kubrick ) that is actually quite good and rather catchy. Then rest of the album sounds like a mix of dark movie soundtrack and video game music! The last track Juddle is a beautiful Vangelis like piece that I wish was a bit longer than a minute! Not a bad album, if not the most original you'll ever hear.
Link: Bandcamp
—
March 18th 2012
Stumbleine – Drifting Youth (2012)
**** Four Stars
Stumbleine is a relatively unknown prolific Bristol-based electronic producer. This album has a ton of samples, its a right eclectic mix of different beats, lyrics and all round lovely chill out sounds. Its not too dissimilar to yesterday's album. Its another hidden gem that deserves to be heard by more people! A great Sunday morning album to relax too.
Link: Bandcamp
—
March 17th
Alaska in Winter – Space Eagle (OST 2010)
**** Four Stars
A soundtrack to a fictional movie, this is so good I wish the movie existed! Lots of lush spacey atmospheric ambient synth textures.This album is a hidden gem, only 100 physical copies exist, on cassette no less! Its up on Spotify thankfully.
Night Falcon Returns is a great example what you can do with just one note on a synthesizer. Its one simple note surrounded by some amazing textures and a groovy beat which makes this one of the best track's I've heard this year. A great lp, well worth checking out if you enjoy the likes of M83.
Link: Official website
—
March 16th

Disappears – Pre Language (2012)
**** Four Stars
This is just a great rock album! I saw these guys support Michael Rother a while back, they do have that motorik beat sound going on as well as some post-rock too. This album sounds more clean cut than their previous records, a nice shift in style but they still sound very much like one of the most exciting bands in Chicago right now.
Have a listen to Love Drug, what a brilliant track. My favourite on the album, if you enjoy Black Rebel Motorcycle Club you will love this album!
Link: Official website
—
March 15th 2012
The Magnetic Fields – Love at the Bottom of the Sea (2012)
**** Four Stars
I thoroughly enjoyed this album! 15 tracks which only clock in at just over 34 minutes. A riveting mixture of pulsating synths and lush acoustic melodies. The lyrics are genius too!  Lots of 2-3 minutes pop songs, that are each enthralling in their own ways. My first taste of the Magnetic Fields, and will not be the last. This was a blast!
Link: Official website
—
March 14th 2012
The Darcys – The Darcys (2011)
*** Three Stars
Disappointed by this album in truth! Comes from the amazing arts & crafts label out of Toronto that brought us Broken Social Scene, Fiest etc. Its a mediocre indie slash some time shoe gaze album. This review will read like yesterday's as I have the same feeling, some good tracks but nothing that really blew me away. Probably the most disappointed I have been about a arts & crafts release. They have some treasures coming out here soon I have been told so we'll see!
Link: Official website
—
March 13th 2012
Beach House – Teen Dream (2010)
*** Three Stars
A nice breezy indie dream pop record, if nothing remarkable! The musicianship on the record is outstanding, the record sounds lovely too thanks to some slick production. All the songs all sound a bit samey, their are no real stand out tracks. It was an enjoyable listen if nothing else, I wouldn't be tempted to check out any of their earlier albums.
Link: Sub Pop artist page
—
March 12th 2012
The Church – Starfish (1988)
***** Five Stars
This album started out good and then just got better. The early tracks sound very Lloyd Cole like! The album's highpoint is the last four tracks from the brilliant Antenna. A New Season has The Chruch sounding very Stone Roses! Its a brilliant track. Maybe my only criticism would be that some of the tracks sound a bit dated. However I love that big 80s sound, so this album fully deserves five stars for me!
Link: Official website
—
March 11th 2012
Girlfriends – Girlfriends (2009)
*** Three Stars
Not a bad album this, think Death Cab for Cutie meets Chin Up Chin Up. The album is available for free via the band's bandcamp. Its a bit erratic at times (Untitled #6) then you have gems such as Chex Urself B4 U Rex Urself. Some odd song titles for sure, but the album has a ton of hooks that will likely to keep you interested until the end.
Link: Bandcamp
—
March 10th 2012
Japan – Tin Drum (1981)
** Two Stars
Never enjoyed their singles, but I thought I'd give the album a try. I just couldn't get into it to be honest. Its all a bit arty farty at times, the music never seems to go anywhere. Some nice synth touches here and there that I enjoyed, but otherwise the songs are not there. Check out OMD's Architecture & Morality instead!
Link: David Sylvian official website
—
March 9th 2012
John Lee Hooker – Never Get Out of the Blues Alive (1972)
**** Four Stars
This guy knew how to play the guitar eh! A brilliant musician, the tunes on this album are very powerful. He had a very melodic style of playing, its a lovely listen. Boogie with the Hook is probably my favourite track, T.B. Sheets is also equally as good. A very accessable blues album that I would recommend to anyone really.
Link: Official website
—
March 8th 2012
Torul – In Whole (2011)
** Two Stars
I really struggled with this one, it clocks in at over an hour but it felt like two hours! Some interesting sounds here and there, the rest of the time they spend trying to sound like Depeche Mode. The singer even sounds a bit like Dave Gahan! A couple cool arpeggio driven tracks that I did enjoy enough to merit the two stars. Otherwise don't bother with this one!
Link: Torul facebook
—
March 7th 2012
Crosby, Stills & Nash – Greatest Hits (2005)
**** Four Stars
Thoroughly enjoyed this best of, I knew more songs of theirs than I realized! Our House which I knew from that classic scene on Only Fools & Horses after Del & Rodney became millionaires. The tracks I didn't know I enjoyed for the most part. It doesn't appear the album was put together with much thought, which is a shame but that doesn't happen so often with compilations anyways!
Brilliant songs, with lush harmonies, I would recommend these songs to anyone!
Link: Official website
—
March 6th 2012
Rumour Cubes – The Narrow State (2012)
**** Four Stars
This is 36 minutes of pure post-rock joy! They are a bit more restrained compared to other post-rock groups such as Explosions In The Sky. Just when you think a piece is about to take off then it doesn't really, but this is good. It had me hooked. The soundscapes on the opener The University Is A Factory is mind blowing at times.
Tempus Fugit the closing track is so beautiful I was hoping it would go on for another five minutes! This is their debut lp, definitely a band worth keeping an eye on. If you enjoy the likes of Mogwai then check these guys out!
Link: Official bandcamp
—
March 5th 2012
Electrelane – Axes (2005)
***** Five Stars
Brilliant! Lots of locked in grooves, extended noise-rock and motorik beats along the same lines as Neu! You can hear Klaus Dinger all over the second track Bells. Its very similar to Stereolab with the lush female vocals, which is not a bad thing let me tell you! There is plenty variation too.. just love the use of the train sounds on Gone Darker, that track just blows me away .Then you have tons of use of the banjo on I Keep Losing Heart, which is equally as effective!
If you enjoy Stereolab then this album is a must for your collection. Really looking forward to checking out their other albums.
Link: Official website
—
March 4th 2012
Errors – Have Some Faith in Magic (2012)
**** Four Stars
What a great album this is! Lots of dreamy electronics meets post-rock guitars! Its a very positive pulsating album, one that I would recommend to anyone who enjoys music. Its definitely got a soundtrack feel to it, but without sounding too alike their label mates Mogwai. It would be doing them a disservice to compare them to Mogwai. Their sound has more variation, with disco beats, its not math rock.
Its got a couple dull tracks hence the loss of a star, but well worth checking out!
Link: Official website
—
March 3rd 2012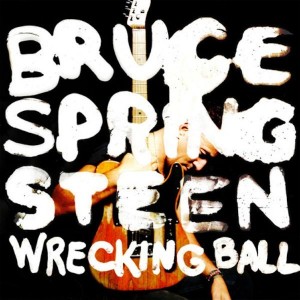 Bruce Springsteen – Wrecking Ball (2012)
*** Three Stars
This is not one of his best, it starts off so well with the brilliant thundering single We Take Care of Our Own, an obvious nod to Born to Run! Love the synth underbelly, really sets the tone for the rest of the track to be a fist pumper! From then on its a mixed bag. Some rock anthems, some spiritual searching music, some African beats, electronic beats and then I'd never thought I'd hear it on a Springsteen album.. rap!
The variation is good, especially on the bonus tracks. Sadly I just don't think the songs are there, out of the 13 on my version only 6 tracks I'd want to listen to again to be honest. That said, he's a human being, we can't expect everything he does to be upto the standard of Born to Run or the Rising. I'd still go see him live in a heartbeat!
Link: Official website
—
March 2nd 2012
Jean-Michel Jarre – Oxygene (1976)
***** Five Stars
Another one of those artists I have always been meaning to check out, glad I did today. This album is a wonderful ambient and electronic trip to another world. At least that's what it sounds like, the music is not from this world that is for sure. I can only imagine what it must have been like to hear this for the first time in 1976! Its surreal stuff from ambient soundscapes to electro-minimalism and synth-pop all makes this 6 track album unbelievably good.
(Part IV) everybody will know, you just may not know the title. An early synth gem. My favourite piece is the second half of (Part V) when the arpeggio kicks in, its thrilling stuff.
Link: Official website
—
March 1st 2012
Marvin Gaye – What's Going On (1971)
**** Four Stars
I know what your thinking, yes I haven't listened to this album previously. Always enjoyed the title track, so was looking forward to digging into this one! His voice is of course majestic. Its not as relaxing as I was expecting to be honest. The themes are hard hitting, social issues a plenty which is hardly surprising giving the time. Some of it is a bit too holy holy for my taste, Save The Children especially is a bit cheesy.
Inner City Blues (Make Me Wanna Holler) is a stunning track I could listen to that all day long. A great R&B/soul album that I can't imagine anyone not enjoying!
Link: Official MySpace