60 albums down, only 306 to go! February has now been archived, you can see my spreadsheet summary for February here. March picks can be viewed here.
—
February 29th 2012
Ossian – Ossian (1977)
*** Three Stars
Ossian are a folk band out of Scotland, here we have their first album which is since long out of print! But thanks to the wonders of the internet I'm able to listen to it today. Its a solid album, if a bit meandering on occasion. Scottish music should be engaging throughout, this is not sadly. I've been told their later albums are much better so I'd be tempted to give those a listen, as I'm really enjoying discovering trad Scottish music in depth!
My favourite track is the pipe & fiddle lead Spootaskerry-The Willow Kishie-Simon's Wart (Shetland reels) yeah try saying that after a few drams! This is my last Scottish folk album for awhile, its been a great adventure I look forward to discovering more later on in the year.
Link: Foot stomping page
—
February 28th 2012
Woodie Guthrie – Dust Bowl Ballads (1940)
**** Four Stars
Its quite easy to hear on this record how Bob Dylan got started! He had a great voice and he really knew how to write a good song. The music was an after thought for the most part as its really all about the clever lyrics. Not much to say that hasn't been said already, I thoroughly enjoyed this record!
Link: Official website
—
February 27th 2012
Electric Light Orchestra – Out of the Blue (1977)
*** Three Stars
Here we have another album that could be classed as 'Dad rock', Its at times really epic stuff, it has all the whistles and bells of a classic rock album from the 70s. I was hoping I'd maybe enjoy the themes a bit more, but I can't say I was that captivated in truth. Again its almost rock opera from start to finish, with some heavy use of synths to give it a contemporary feel which works on some tracks but not on others.
Mr Blue Sky is a great track and is deserving of its cult status, if you enjoy 70s rock then you would probably enjoy this album. Three stars, doubt I will be checking out anything else of from ELO to be honest.
Link: Official website
—
February 26th 2012
The Sensational Alex Harvey Band – Next (1973)
*** Three Stars
This record very much sounds of its time right from the off with the bombastic glam rocker Swampsnake. Really like Faith Healer which has this epic Pink Floyd going on. The term DAD ROCK springs to mind with this band! Which is a good thing, very Queen like especially on Giddy-Up-A-Ding-Dong. The lyrics at times are very comedic, very Scottish! Not a bad listen, but I wouldn't investigate any further I don't think.
Link: Official website
—
February 25th 2012
The Cranberries – Roses (2012)
**** Four Stars
Love the lead single Show Me The Way that's been a staple on Chicago's XRT since late last year. The album starts off with the beautiful Conduct with its post-rock like intro. The rest of the lp is no real departure from the Cranberries we know and love from the 90s. A good solid album, looking forward to seeing them live in May!
Link: Official website
—
February 24th 2012
Dick Gaughan – Handful Of Earth (1981)
**** Four Stars
Dick Gaughan has a really unique voice and guitar style that makes for a really exquisite album here. Its very Scottish sounding, almost celtic blues like if there is such a thing! The songs here are beautifully performed, the guitar is subtle and it works with Dick's Scottish brogue vocals.
Its not the cheeriest album you will ever hear, the themes are a bit grim at times, but with that its very moving. A sparse album that really deserves your full attention. Love the version of Both Sides the Tweed, though maybe I'm being a bit biased being that I'm from Berwick Upon Tweed!
An album truly well worth looking out.
Link: Official website
—
February 23rd 2012
Fujiya & Miyagi – Electro Karaoke in the Negative Style (2002)
**** Four Stars
Fujiya & Miyagi are a electronic/krautrock inspired band from Brighton England. This album is heavily influenced by the likes of Neu! (Electro Karaoke) & Can (Skinnny Punk). Its a chill album, would be a great Sunday morning album! It wouldn't surprise me if they enjoyed some of Eno's ambient works. This is a brilliant album that flows effortlessly from start to finish. The motorik beats are perfectly placed on the album among the more chilled out tracks.
Electro Karaoke is a great track, with a beautiful vibe to it, just like the rest of the album really. If you enjoy Neu!, Stereolab & Aphex Twin you should enjoy this record!
Link: Official website
—
February 17th 2012
The Tannahill Weavers – The Tannahill Weavers (1979)
***** Five Stars
Named after the poet Robert Tannahill, from Paisley just outside Glasgow the Tannahill Weavers are a traditional Scottish music band that have been going since the 70s. Their take on traditional Scottish music is first class, their own arrangements are just as good. Their main instrument is the bagpipe which dominates the record, and how beautiful it is too. The bagpipe solo on Heather Island just gives me the chills its so hauntingly beautiful.
You don't need to be a bagpipe head banger to enjoy this record, if you enjoy Runrig you will love this band! Dancing Feet their record from 1987 is equally as good!
Link: Official website
—
February 16th 2012
Joni Mitchell – Blue (1971)
*** Three Stars
This record I just couldn't connect with, despite all the critical acclaim it has. Joni has a beautiful voice and these tunes are very strong I couldn't get into it sadly. I read she is influenced by Miles Davis, that was quite evident as the folk was very jazzy at times! Three stars for the beautiful voice and the obvious talent she has, just not my cup of tea.
Link: Official website
—
February 15th 2012
The Cars – The Cars (1978)
**** Four Stars
The Cars were America's premier  'new wave' (hate that term!) act, from this album its easy to see why. The tunes are vibrant and they still stand up today, which surprised me to be honest! Everyone that I have mentioned The Cars too respond with comments about them being dinosaurs etc! But that maybe partly due to North America's love/hate relationship with synth music. Ok these guys throw some axe man like guitar in there to good effect, but there is no doubt the tracks washed with synths are the standouts, particularly Let The Good Times Roll.
Moving In Stereo sounds like their homage to Kraftwerk, a great tune. These guys reformed last year, hopefully I did not miss the boat as I wouldn't mind seeing them live! If you enjoy David Bowie you will dig this album.
Link: Official website
–
February 14th 2012
Princeton – Remembrance Of Things To Come (2012)
***** Five Stars
I first came across Princeton when they supported Camera Obscura here in Chicago in 2010. Their first album was good, this album is brilliant! This indie pop band really know how to write energetic catchy pop tunes. They use everything from fiddle to synth to great effect, the melody's on here are just so good they are outrageous! Yeah I love it.
I honestly don't recall a bad track and now I'm on my second listen. My one big complaint is how on earth did Clamoring For Your Heart not make it onto the album?!!! Its a bonus track, one of their best tracks and they don't put it on the album. As long as they play it live when I see them next, as they did back in 2010.
Link: Official Website
—
February 13th 2012
Washington – I Believe You Liar
**** Four Stars
Washington is the moniker for singer songwriter Megan Washington from Australia. I saw Megan and her band support OMD last September here in Chicago was quite impressed with their short set. Though I didn't not pick up the album at the time, wish I had because its a really tight album. Megan knows how to write a brilliant pop song, no more so than the best track on the album How To Tame Lions.
Underground is an earth shatteringly beautiful track if a bit morbid! Just check it out to see what I mean. Megan has a beautiful voice, she has a new fan in me! Looking forward to seeing Washington live when they are next in town. If you enjoy Camera Obscura, Feist and the likes then you should enjoy this album!
Link: Official Website
—
February 12th 2012
Magnet – Ferrofluid (2012)
**** Four Stars
I was first introduced to Magnet aka Even Johansen when he supported Doves back in 2002 on the Spring Last Broadcast tour. Hard to believe that was 10 years ago! Magnet had really a successful period from 2002 thru til 2007 then nothing. Ferrofluid is the first album in five years and what a welcome return! At first I was skeptical this was him until his distenctive Norwegian voice comes in on the first track Doldrum Days.
This is a very strong album, probably not as accessible as some of his previous works but that's cool with me. Stay (feat. Hilde Marie Kjersem) is Magnet at his very best. Fireflies is Magnet allover, then you have Pussyfoot which is unlike anything he's done before.
The album so far has only been released in Norway with a worldwide release expected sometime this year. Magnet is back and I sure hope he is here to stay! If you are struggling to get a hold of this album, do check out his 2003 album On Your Side or the wonderful Where Happiness Lives EP.
Link: Homeofmagnet
—
February 11th 2012
Bronnt Industries Kapital – Hard For Justice (2009)
***** Five Stars
BIK are a electronic duo from Bristol,England, another suggestion thanks to my wife. What a hidden gem of an album! A fusion of krautrock, electronica and techno but not limited to! The krautrock element to the album is subtle, its always in the background. The live instrumentation of techno beats and keys really keep my interest in this album from start to finish.
Both S.T.R.Y.K.E.R and Objects & Purpose  are very Kraftwerk/Neu! like with the Neu! driven beat and the Kraftwerk like catchy synths. Objects & Purpose uses synths not unlike OMD from Architecture & Morality. Its all beautiful stuff, my only complain is that its too short!! Great album, if you enjoy krautrock & synth music then this album is for you!
Link: Official website
—
February 10th 2012
The Incredible String Band – The 5000 Spirits or the Layers of the Onion (1967)
**** Four Stars
The Incredible String Band were a psychedelic folk band from Edinburgh Scotland. At first I thought I had put the wrong album on, this sounds like Bob Dylan! That said its a great album, I thoroughly enjoyed it, and would definitely check out more of their stuff. They were obviously on something when they recorded this album, there are some off the wall moments on the album that makes you go wtf?! Like the rather strange but beautiful The Hedgehog's Song!
If you enjoy the Fairport Convention album I did last month then you will enjoy this!
Link: Fan site
—
February 9th 2012
 Biosphere - Substrata (1997)
***** Five Stars
This is just a beautiful album, it has the most lovely warm sound. Its electronic, but it almost sounds organic like. Its a very smooth clean sound I don't think I have heard an album quite like it before and I have listened to a ton of ambient albums!
Its great meditation music, otherwise I will say no more other than you gotta put this album your ipod! You will not regret it I promise.
Link: Official Website
—
February 8th 2012
Les Colocs- Les Colocs  (1993)
**** Four Stars
Another suggestion here thanks to a work colleague of my wife. Les Colocs are a Montreal based group, so all the lyrics are in the French. The music on here is excellent, so it doesn't matter too much that I have no idea what the lyrics are about, who has any clue what Sigur Ros are saying?! It has a country feel to it,  if I hadn't known where they were from I'd say they are from New Orleans as they have that jazz/blues sound going on.
The band obviously had a ton of fun recording this album. Well worth checking out if you fancy something a bit different!
Link: Official Website
—
February 7th 2012
Miles Davis – Sketches of Spain (1960)
**** Four Stars
Here we go with another jazz standard, this time from Miles Davies. Sketches of Spain as the title may suggest does have a Spanish sound going on. Its very soundtrack like, you could imagine this being used for one of those classic movies from the 60s. Its very accessible, probably more so than the other jazz albums I have listened to in the past.
Can't pick a favourite track, the whole album was just a joy to listen to on my commute to and from work. I would recommend this album to anyone, regardless whether your a jazz head or not!
Link: Official Website
—
February 6th 2012
Bert Jansch - Bert Jansch (1965)
*** Three Stars
Some would say Bert Jansch is Scotland's Bob Dylan, he certainly sounds like Dylan on this album. Its a nice folk record, but it didn't really blow me away. But I probably need to give it a few more listens to really get it you know? There is no question the guy playing these songs is very talented, the guitar playing is immense and the lyrics are beautiful. I definitely plan on checking out some of his later works. Needle of Death is a great song, as is Strolling Down the Highway those are well worth checking out.
I feel bad only giving it three stars but that's how I genuinely feel after a couple listens today. If you enjoy Dylan's early stuff you would enjoy this record!
Link: Official Website
—
February 5th 2012
Drive OST (2011)
**** Four Stars
I loved the movie Drive, the ice synth soundtrack was the perfect fit for a very European style movie. The bulk of the soundtrack is scored by Cliff Martinez who scored soundtracks for Steven Soderbergh. The music is all synth textures, with a ton of atmosphere, pulsating beats, its all very sinister a bit like the movie naturally. Besides the first five tracks its very ambient.
The stand out track is the college track A Real Hero, the icy female vocals this really could have been lifted off an album from 1981 its a beautiful track. If you enjoy ambient synth music (Brian Eno) then check out the soundtrack, if not then just check out the lead track A Real Hero which is just a great pop tune. The movie is well worth seeing too!
Link: Official movie website
—
February 4th 2012
Fleet Foxes Helplessness Blues (2011)
*** Three Stars
I want to like this album, the harmonies are lovely but I just think half of this album is weak, the songs are just not there. There are four or Five brilliant tracks which is kind of how I feel about their debut album too. Its a shame as I do love their sound, but the songs are just not there for the most part. Maybe its a grower but after two listens the album doesn't grab me, and is at times a bit boring. My favourite track is Lorelai, love the opener too.
I suggest you check out Le Loup's Family, a similar style but with killer tracks that this album lacks in my opinion.
Link: Official website
—
February 3rd 2012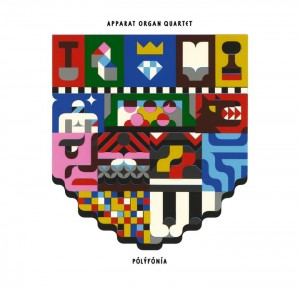 Apparat Organ Quartet – Pólýfónía (2010)
**** Four Stars
Despite the name AOQ is a band consisting of four keyboardists and one drummer from Reykjavik, Iceland. The music at times sounds like it was influenced by video games music! Tons of fat arpeggio, with plenty bleeps in all the right places. On my first listen on my commute to work this morning, the album didn't appeal. Listening to it again this evening through the speakers, it sounds so much better! It sounds like they are trying to fit as many presets as they can onto this album, so varied are the sounds on each track. It sounds like they used as much analog equipment as possible, so it doesn't sound so slick as some synth pop albums but that is part of the appeal I think.
If you enjoy experimental synth music, along the lines of the Octopus Project then I suggest you check this album out. But maybe not listen to it through ear phones at first!
Link: Facebook
—
February 2nd 2012
Talking Heads – Remain in Light (1980)
*** Three Stars
This album was a bit of a let down in truth. Really enjoyed their best of collection, but this album just didn't grab me at all. The ideas were at times brilliant, but other times the tracks didn't seem to be going anywhere, especially on the first half. The second half seemed to pick up, espcially with Seen and Not Seen which is a beautiful track.
Reading other reviews, I'm still miffed as to why I couldn't get into this one. Maybe need to give it a few more listens!
Link: Facebook
—
February 1st 2012
The Doors – Morrison Hotel (1970)
**** Four Stars
The first month is done, 31 albums down, only 335 to go! My summary for January can be viewed here. January's reviews have been archived here. Now onto today's pick…
This is just a great rock in roll album with a tinge of blues. It gets off to the most rollicking of starts with the fantastic Roadhouse Blues. If you have not had your morning coffee then put this track on, it should get you going. Waiting For The Sun is very Pink Floyd like! The lyrics are great fun, Jim Morrison was a great poet with some great vocal delivery especially on tracks such as Ship of Fools & Land Ho! The later is probably my favourite track on the lp. I love the forceful psychedelic keys, they work well with the bluesy guitar.
Classic rock at its best, well worth checking out!
Link: Official website