This past weekend saw Heavenly Recordings celebrate 25 years with a Birthday bash in Hebden Bridge Yorkshire. DMB was there for both Jimi & Cherry Ghost gigs, both of which were memorable to say the least. We had such a great time that we got very few pics ourselves, so I would recommend you either check out the Doves forum for pics & comment or these sites for a review & pics..
Jimi reviews: Backseat Mafia | Gourmet Gigs
Cherry Ghost review: Gourmet Gigs
Thank you to those who stopped us and offered kind words regarding the site and stuff, was really cool seeing some old faces from Doves gigs from years gone by, just as it was equally cool meeting new faces too! It was a grand old time and we hope to do it all again someday soon.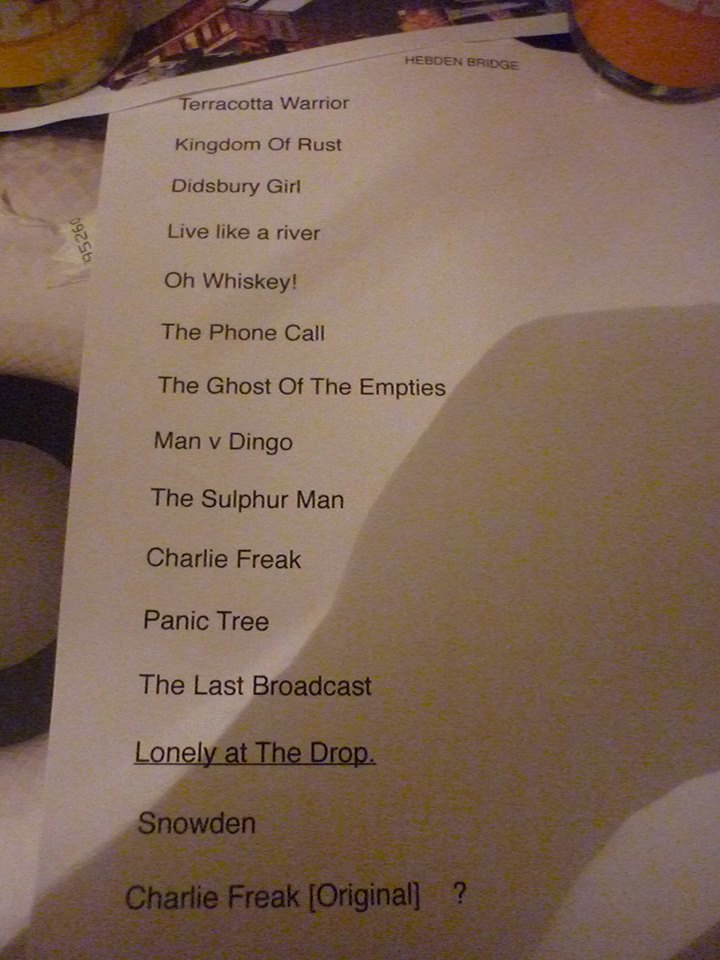 Setlist from Jimi's show, sadly the encore was not played due to time restrictions, thanks to gibbo for the pic!
A great way to end Jimi's Odludek campaign. We look forward to the follow up immensely! Now our attention turns to Black Rivers, with their debut lp out here in a couple weeks. Part two of my interview with Andy & Jez will be live on album release day.
I recently had the opportunity to pose some questions to both Andy & Jez about all things Black Rivers. I asked them both 10 questions each. This is part one of the interview, the second part is focused on the songs on the album and will make more sense to you once you have heard the record, so expect the second part on or around Feb 9th when the lp is out.
Thanks to Andy & Jez for their time and to John for making this happen!
Visit Black Rivers official website to pre-order the debut album, released February 9th!
Five questions for Andy:
- Andy, after Doves last gig in 2010, we have read in the press you were in a psychedelic group. Are you able to reveal more? Did anything get released?
yes was making some music with friends, with Jim noir (a manchester solo artist)Laurie laptop who was in Durutti Column & Also Ian smith who was in Alfie amongst other bands, we recorded a lot of material,but never finished stuff!! so theres nothing released of yet, some of us had other projects&a couple of the guys had 'proper' jobs, so it got harder & harder to get together to record/write but hopefully when everyones less busy we'll finish some of those songs,as theres some good stuff there&had a lot of fun recording with them all.
- Which song or moment ignited the spark to make you both want to go ahead and record an album? Describe how that came about.
I think that would have been early stages of Age of Innocence or the ship,
both songs felt new to us,in age of inn .. i remember we started at my house &i had that rockabilly drum beat over some different chords ,jez put a new acid like bass line over it &it shouldn't have worked ,as both parts are sonically very different,but it did&we liked the vibe. From there we went on a couple of recording/writing trips to anglesey where it started to come together more.the ship i had the vocal line&synth bass line,but jez welded the instrumental 'kraftwerk like' sections on !& took it somewhere unexpected.
- You talk about getting away from sounding like Doves of course. With that in mind, did you approach the song writing process for this record differently than you would have for a Doves record? Describe how you usually turn an idea into a song, How far do you go with the idea before you involve Jez?
certainly at the start of the project we didn't start by saying this record cant sound like doves as think we both feel its not good to limit or put restrictions on songwriting early on,is nice to feel you can go anywhere you like with it,i think later on you can choose to leave certain songs off if you both feel is too close to previous material.
as for writing songs, for me can start with anything…a sample or basic set of piano chords or even just a new synth sound can trigger an idea,for me personally i always try early on to get some kind of vocal melody in early in the process whilst it feels fresh(lyrics generally come later on)but if working with jez i dont develop it too much as good to get his input,as he can take a song somewhere you dont expect.
- Do you have a favourite place to go for song writing inspiration?
well with this record was probably Beaumaris in Angelesey Wales.
- Any chance of seeing Black Rivers in North America sometime in 2015?
would love to tour in u.s ,hopefully looking good for us doing sxsw festival&possibly some west coast dates ,all depends on raising the budget so we can make it happen..but would love to play as much as poss out there.
p.s thanks nicky&all the regular dovesblog community for the support over the years..is much appreciated!!
—
Five questions for Jez:
- Jez, after Doves last gig in 2010, you went off in a totally different direction (understandably!) with Raized by Wolves. What happened to the album? Did any of the tracks penned for Raized By Wolves make it onto Black Rivers?
We finished 10 tracks They still sound great imo …I guessed we flirted with the pop/ electronic world and didn't work out …But we had so much fun doing RBW ….Currently the songs are being used for other Artists …Probably released in 2015 but not under "rbw"
- You talk about getting away from sounding like Doves of course. With that in mind, did you approach the song writing process for this record differently than you would have for a Doves record? Describe how you usually turn an idea into a song, How far do you go with the idea before you involve Andy?
yes i wanted to do something that would place us in a different mind set to ..lets say when writing for doves ..My main thing was it must sound contemporary even if it has a retro feel it …it must have a twist to give it a fresh edge …well that was the intention …
Sometimes its literally sitting down with the guitar for days ….until something triggers ' if i'm working with guitar and dictaphone I'll usually get around 4/5 ideas a day But will take something special to take it any further….. The top line melody comes at the same time as the chords very symbiotic ….or maybe its a sample ..or just a feeling …….sometimes i'll have a melody and chord structure thats been around for years /decades …Just hadn't cracked the code so i'll always revisit (as a good re-occurring idea will always be knocking on my door ….) Andy gets involved if the song resonates with him …Sometimes we write and build a song together or sometimes i'll bring a Vrs and chrs idea with top line and then will evolve it together …Or could be Andy bringing in an idea or a snippet – we will then evolve it together…Guess theres no set formula ..
- Do you have a favourite place to go for song writing inspiration?
Anywhere really ….To get the initial ideas i hop on a plane and travel with my laptop /mic /and travel guitar …Then We might evolve it in our manchester studios .. then we might think about recording in a cottage/house (generally in the uk) as moving a drum kit and amps is a real pain
- Did you collaborate with anyone (Martin Rebelski perhaps?) on the record or is it entirely your own work?
Nope just me and andy ..
- Any plans to release something for Record Store Day 2015?
Not yet !! but would love to do something original for it …time permitting
Thanks nicky  your a legend !! and thanks  to all on the board…. We both really appreciate the fact that you've stuck with us  for such a long time
Just recently surfaced, a video for Seven Day Smile with Jane Weaver filmed at the Manchester Ritz. I don't ever recall seeing this before, so a hidden gem if there ever was one!
Also in the news.. Jimi was 'in the booth' talking to Liz Kershaw on 6 music earlier today. You can listen to the interview via the 6 Music website. Fast forward to 1 hour 9 mins to hear Jimi discuss what he is currently reading and he reveals a wee bit about the upcoming Guy Garvey solo album & the Heavenly Hebden fest that's happening in a couple weeks.
Wishing you all a very Merry Christmas and a Happy New Year!
Thanks so much for all the support this busy year, supplying news, setlists etc that helps keep this site going!
Its been a great year with Jimi's brilliant debut album and endless touring. 2015 promises to be just as good with Black Rivers prepping their debut album for release in February. Andy & Jez kindly answered a ton of questions for us which I will post up in the new year.
Here's to another busy year ahead! First up will be A Heavenly Weekend in Hebden Bridge next month!
Wishing you all a very Happy Holiday season! The debut Black Rivers album release date has been pushed forward a week and will now be released February 9th. Andy & Jez are signing copies purchased at their online store.
They will be playing a short tour before they go out on the megadome tour with Noel Gallagher, dates listed above. They will also be supporting Elbow in Manchester & London. For the very latest visit their official website. They have also posted a video trailer for the album on facebook, It sounds fantastic!
The video for Jimi's next single Lonely at the Drop, which comes out as a digital download on January 5th. The download features a Wings of Fury remix of Hope and Live Like a River remixed by Tea Street Band.
The video was premiered by Loaded magazine. In an interview with the mag, Jimi revealed he is writing the next album and hopes to start recording this side of Christmas!
First released 20 years ago, Sub Sub's first lp Full Fathom Five has just been released on all good digital stores.
Its not the first time certain tracks have been made available online legally, Ain't No Love, Past & the first single Spaceface (not on FFF) can be found at iTunes on various compilations. Full Fathom Five and its follow up Delta Tapes have been traded among fans for many years, whilst the CDs fetch silly amounts of money on auction sites.
Here's a small handful of links, it can also be streamed on Spotify.
Here attached is an interview Jez did for the Sun newspaper that was published earlier this week. There is nothing new regarding Black Rivers that we don't already know, besides a funny story about Jez seeing Jimi live earlier this year.
Jez sat in on 6 Music's roundtable show last Thursday. Jez did reveal they plan to play SXSW in the States, which bodes well for us at this side of the pond. Though we'll see what happens next year!
Lots going on.. Jimi has announced a couple gigs, first one being a slot at the XFM Winter Wonderland at the Manchester 02 Apollo in December. For ticket info visit the XFM site here.
Secondly, Jimi will be playing a matinee gig in Hebden Bridge as part of Heavenly Recordings birthday bash 'A Heavenly Weekend in Hebden Bridge'. Tix on sale now.
In Black Rivers news, an interview & live session they did for gigwise is now streaming online, you can watch it above.
A new remix of Voyager 1 (The Cosmologist's Heliosphere Mix) is available to stream via Q mag. Visit Qthemusic.com to hear the remix.
Black Rivers were live in session on Dermot O'Leary yesterday (Sat Oct 25th) where they performed a brilliant live version of The Forest, a track taken from the debut album. It sounds fab live! They also did a beautiful version of the vastly underrated track Everybody's Gotta Learn Sometime.
To listen to the session, click here.
The second Black Rivers single Voyager 1 is now available to purchase at all good digital outlets in the UK. Overseas from what I can tell, only iTunes has it!